Warnings Galore: Understanding California's Proposition 65
California gives guidance on compliance with Proposition 65 and health warning requirements under the FDA's deeming regulations.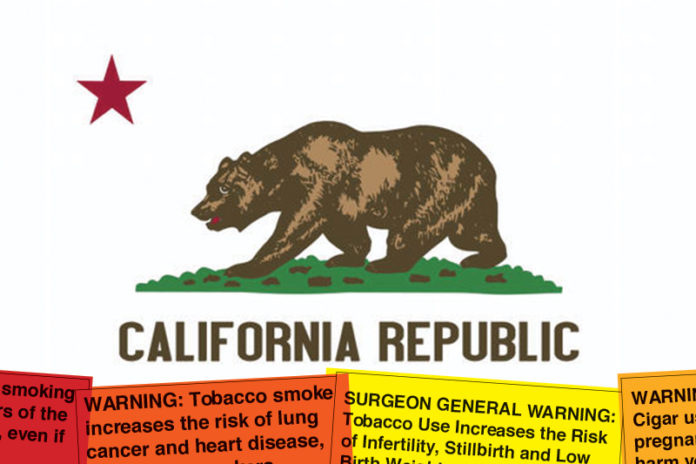 Under the U.S. Food and Drug Administration's (FDA) final rule deeming tobacco products to be subject to the Federal Food, Drug, and Cosmetic Act (known more commonly as the agency's "deeming regulations"), the FDA expanded its regulatory authority over several tobacco products, including cigars and pipe tobacco, as well as e-cigarettes and vapor products. In response, members of the industry were required to comply with a host of upcoming compliance deadlines, including the implementation of new health warnings on product packaging and advertisements by Aug. 10, 2018. Said requirement put a particular strain on the cigar industry, as under the deeming regulations manufacturers are required to rotate six separate health warnings on all cigar packaging and advertisements under a warning plan required to be submitted to the FDA.
In response, many in the industry solicited comment from the FDA on how the new health warning requirements related to various state and local requirements for tobacco product labeling, most notably California's Proposition 65, as well as whether the FDA warnings would pre-empt such state and local requirements. In response, the FDA stated that they had researched the issue with state and local governments throughout the country and had concluded that no state or local laws were identified that would be pre-empted by the new health warnings. Thus, members of the industry were forced to redesign their product packaging to accommodate a patchwork of federal, state and local labeling requirements in preparation for the Aug. 10, 2018 deadline.
However, through a letter issued by Deputy Attorney General Harrison M. Pollak on April 11, 2018, California is now declaring that if cigar manufacturers comply with the requirements of the deeming regulations' new health warnings and use a particular warning related to birth defects, such products will comply with the product labeling requirements mandated under Proposition 65. Under Proposition 65, manufacturers and retailers of consumer products are required to notify consumers through on-product labels and/or through signs posted at retail locations if said products contain chemicals known to the state of California to cause cancer, birth defects or other reproductive harm. However, almost in lockstep with the FDA's release of the deeming regulations, the state of California amended Proposition 65 in August 2016 to require manufacturers to list the specific chemical(s) within their products that were known to cause cancer, birth defects or other reproductive harm, to be fully implemented on all relevant product packaging by Aug. 30, 2018.
In stating how compliance with the health warning requirements of the deeming regulations could meet the requirements of Proposition 65, the letter noted that for one of the six health warnings for cigars, the FDA gave the option of using one of two separate warnings:
Warning: Cigar use while pregnant can harm you or your baby.

Surgeon General Warning: Tobacco use increases the risk of




infertility, stillbirth and low birth weight.
The letter declared that products that use the latter of the two aforementioned warnings in their warning rotation would be in compliance with the requirements of Proposition 65, in that "[c]onsumers who received warnings specific to cancer, and to the increased risk of infertility, stillbirth and low birth weight, will have received clear and reasonable warning under Proposition 65." With regard to the other warning concerning cigar use while pregnant, the letter stated that such warning would not be compliant with Proposition 65 because while it is known under Proposition 65 that tobacco smoke causes cancer, a warning about cigar use while pregnant "fails to deliver a warning about the risk of male or female reproductive harm." As such, a warning about the risk of infertility addresses the risk of male and female reproductive harm and addresses the health risks meant to be addressed by Proposition 65. Thus, cigar packaging that included the surgeon general warning in its rotation would not also have to include a Proposition 65 warning on said packaging.
California's clarification provides a welcome relief to the cigar industry, in that by using the surgeon general warning, cigar packaging will satisfy both California and federal regulations, eliminating the need for manufacturers to have all cigar packaging bear the Proposition 65 warning or to manufacture state-specific packaging for cigars sold in California.
This story first appeared in the July/August 2018 issue of Tobacco Businessmagazine. Members of the tobacco industry are eligible for a complimentary subscription to our magazine. Click here for details.
– Contributed by Andrew Schmidt, counsel for Kretek International