Hat City Ale House's Comeback
Hat City Ale House's Comeback
How Kevin Paige rescued and reinvigorated a much-loved Connecticut cigar venue.
It's often said that the surest route to success—although not necessarily the fastest—is hard work and perseverance. A perfect example is Kevin Paige, who spent more than a decade carefully planning, negotiating and diligently working toward his dream of reopening the Connecticut-based cigar bar Hat City Ale House.
To understand the significance of the challenges Paige had to overcome, you need to know a little history—about Connecticut, about Hat City and about Kevin Paige. Let's start with the state of Connecticut. While a ban on smoking has been in effect in the state since 2003, a few pre-existing cigar bars were exempted from that ban. Happily, Hat City Ale House in downtown Danbury was one of these, and yet the 1,800-square-foot bar struggled to stay afloat. In 2005, Tom Kennedy, who had been its owner since 1996, opted to close up shop.
During the same period that Hat City was going through this gradual demise, Paige, a retail veteran, was building a thriving cigar retail and lounge business. Originally started as a tobacco shop, his Butthead's Tobacco Emporium business had evolved into a thriving cigar store and lounge business with locations in Danbury, Brookfield, Newtown and Gaylordsville by the early 2000s. As a cigar smoker, Paige knew Kennedy and was familiar with Hat City Ale House, so he was saddened to see the venue falter and watched with interest when a new owner reopened the location as a music bar.
"She was never able to get it off the ground, and eventually she had to close it down," says Paige, who made several attempts to purchase the location from its new owner over the decade that followed. Ultimately, financial difficulties led to the building being auctioned off, and Paige finally succeeded in purchasing it.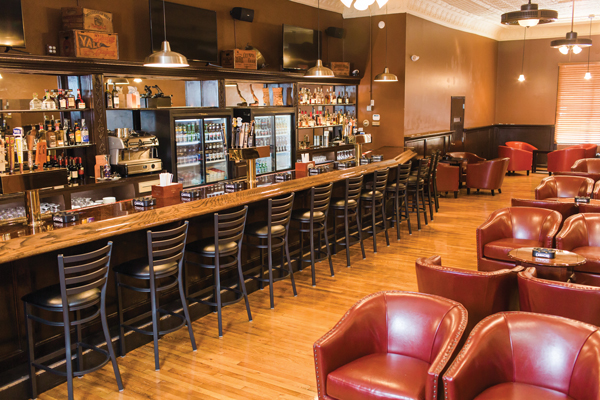 A New Beginning
"It took nearly 10 years to buy the building, and that was just the beginning," recounts Paige, who then had to navigate city and state regulations to ensure that the exemption remained in place and before he could embark on restoring it. Restoring the building also demanded time and energy. "It had been neglected for decades, and unused since 2014, so we had a lot of housekeeping to do," explains Paige. "We made upgrades and gave it a facelift, but the general configuration of the bar is exactly as it was in 2005 when Tom Kennedy left the building."
The bar's cosmetic overhaul was extensive, ranging from refinishing hardwood floors that dated back to the 1880s to encasing 6,500 pennies in resin to create a drink rail. Mocha espresso-colored walls, crown molding and tin ceilings add to the historic feel, giving the interior old-time charm and elegance. Paige put a fair amount of sweat equity into the endeavor as well, personally laying gallons of resin on countertops for durability and a high-gloss look. "I probably laid six or seven gallons of epoxy," he says. "It was a lot of work, but we wanted to get it right."
Systems and amenities, too, required updating. "We upgraded the air system and refrigeration, including two glass-front merchandisers, added LED lighting for the back bar and installed televisions so that people can watch their favorite events," says Paige, who notes that all the televisions are muted. "We are not a sports bar, but you can use a cellphone app called Tunity to listen to the game while you watch."
Kennedy, who owns a local sports bar, supported Paige's effort to reinvigorate the cigar bar, signing over the right to use the Hat City Ale House name for "the price of one draft beer," reports Paige, who says the bar hopes to bring the cigar lovers who patronized the original Hat City back. "We are looking for those people who were hanging out here in their 20s and who are now married with kids and looking for a relaxed atmosphere where they can enjoy spirits and cigars, have a quiet conversation with close friends or business associates."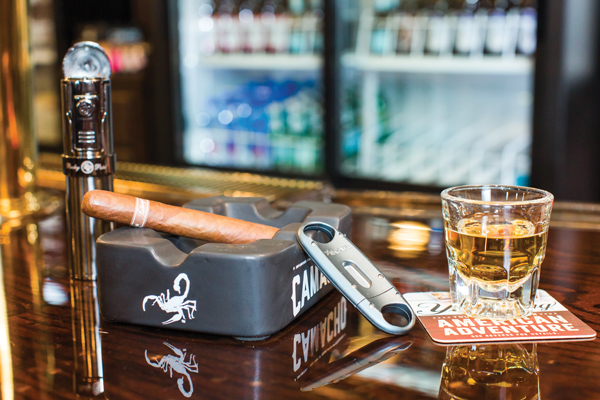 An Environment of Easy Elegance
To that end, Hat City will not be the type of bar where you'll find live music, pool tables or dart boards. Instead, the bar will offer a wide selection of cigars and handcrafted cocktails, with every drink poured to order. Drinnan Thornton, formerly of Alec Bradley Cigars will serve as Hat City's full-service bartender and general manager. A selection of cigars carefully curated to have something for every taste and budget will be on offer, ranging from value-priced cigarillos to a $46 Zino Platinum Crown cigar.
"Right now, we have a little more than 100 cigar facings in showcases, but we have the option of putting a cigar crypt in the basement depending on how things go," says Paige, who says cigar smokers will be able to smoke the cigars they buy on the premises or pay an $8 tobacco fee to enjoy a cigar they bought off the premises. "We will also have a locker program, and anyone who rents a locker will not be subject to tobacco fees and will have elevated access to our events and receive a promotional product package every month that rotates between our six manufacturer partners."
Paige plans to leverage his experience hosting cigar events—his Butthead's cigar lounge locations have them weekly—at Hat City, holding "after parties" at the downtown location. The grand opening on Aug. 25 will be sponsored by General Cigar, with Jack Torano and other cigar luminaries in attendance.
Ultimately, this is a bar and lounge created for cigar lovers by cigar lovers, and as such, it's a labor of love as much as it is a business venture for Paige, who sees it as a gathering spot that's open to anyone interested in a welcoming environment where cigar lovers can congregate, whether that is to meet friends for a before- or after-dinner smoke, or just pop in to kick back and enjoy a cigar in a friendly environment tinged with history.
This story first appeared in the July/August 2018 issue of Tobacco Businessmagazine. Members of the tobacco industry are eligible for a complimentary subscription to our magazine. Click here for details.
– Story Jennifer Gelfand, editor-in-chief of Tobacco Business Magazine